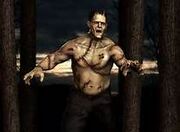 Frankenstein
appears as a boss in the game
Godzilla: Rampage
. In it, he appears much closer to his original Universal Studios appearance.
History
He is one of the monsters brought to New York City by the Xiliens. He is confronted inside a trashed mall. He is one of the easiest bosses. In the last level, he is summoned to fight the player along with Jet Jaguar and Zilla.
Ad blocker interference detected!
Wikia is a free-to-use site that makes money from advertising. We have a modified experience for viewers using ad blockers

Wikia is not accessible if you've made further modifications. Remove the custom ad blocker rule(s) and the page will load as expected.